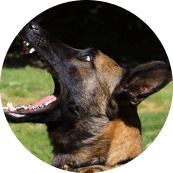 Gene is a fantastic and incredibly knowledgeable trainer. Whether it's pet dogs or working dogs, he's guaranteed to help you and your dog. He's incredibly well researched, and understands the science and data behind training better than anyone I've known. He takes a great deal of pride and effort, not just in solving problems, but in educating owners. I highly recommend him.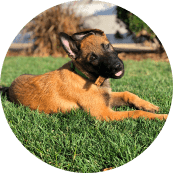 Extremely knowledgeable trainer that will take you and your dog to the highest potential. Great clarity in communication will make him training effective and further enhance your relationship with your dog by using your dog's innate motivation and social desires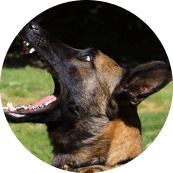 We have worked with Gene to train two of our dogs with very favorable results. Gene uses a logical, science-based approach when instructing dogs and their owners. Through years of careful observation, he has developed a profound insight of the canine thought process and carefully balances rewards and corrections to yield any desired behavior. Gene loves dogs and enjoys interacting with them immensely. As a result, dogs are eager to work with him and they respond quickly to his instructions. Gene is very approachable and will adapt his teaching style to you and your dog's needs. I will be using Gene on an ongoing basis and would highly recommend him to others.
What a great company! We could not be happier with what Gene and Jen did with our dog Clyde. We were at our wits end with Clyde with several behavior issues and just a general lack of discipline. We opted for the 3 weeks of in house training with several training sessions with Gene after. During the 3 weeks, we received updates on Clyde's progress in addition to cool pics of Clyde enjoying his environment. They don't just train your dog, they build a trusting relationship with them as well. Gene and Jen did several training sessions with us out in the local parks allowing us to work on stuff with Clyde in a real world environment after the in-house training. We dropped off Clyde an undisciplined hardcore puller and just a typical puppy. He came came back a well disciplined dog. Fully trained on an e-collar (that is rarely needed) with all the basic commands. He comes on command, heels, sits, stays, and we now have a dog that we can comfortably walk off leash for several mile walks each day. We couldn't thank Gene and Jen enough. Well worth the time and money spent.
Lianne Shinton
2023-09-20
Cranks Custom Canines possesses remarkable dog training expertise that greatly enhanced my skills in preparation for my upcoming competition as part of the US team. If you're in search of top-tier dog training, I wholeheartedly recommend their services. 🐕🏆
Aaron Assadoghli
2023-07-31
Gene and Jen did an absolute fantastic job with our dog! Not only did they train my dog but educated my wife and I so much to an extent that they helped make my home a safer environment for our family. Cannot thank them enough! High recommend!
Griselda Avila
2023-07-24
Gene did a incredible job with our dogs! We first took our at the time 5 month Doberman/Rottweiler mix because she would bark at people and other dogs on walks and we were concerned it would turn into aggression! After her first class we notice a difference we did the 10 class and he really taught us how to work with her and she completely changed her behavior! She is now so well behaved that people will even compliment us on how well behave she is and she's now confident and super sweet with strangers and other dogs! We recently got a 4 month husky puppy and we right away decided to take her to Gene and again he did so great with her he really was patient with her since she sometimes has attitude and she's such a great puppy! I definitely recommend going to Gene!
Working with Gene was awesome! He is great with dogs, he just gets them! He has a natural understanding of them and their behaviors and can figure out their needs very quickly. He helped us so much with our 2 dogs and our dogs loved him! I highly recommend trusting him with your training needs. He is also super flexible with his scheduling it was an overall great experience.
So far, our dog is obeying. Couldn't ask for more !
If I could, I would leave more stars! It was obvious from the beginning they are extremely knowledgeable in dog training and behavior. I had two under-trained and very excitable German Shepard brothers who were not fun to play with or take for walks, I decided we needed a trainer but was apprehensive about taking them to a group setting or a kid from a pet store. I called around to a few different options but could tell from our first conversation this was the trainer I needed for my dogs. I can not be happier that we went to Cranks Custom Canines! From our first training session we received clear and patient directions. We began to see results (although small) after the first session, with each visit they became better and easier to work with. We finished a few months ago and my boys are completely different dogs. We walk on and off leash and they can finally come inside without wrecking everything in the house. Of course training relies on consistency in class and at home but I received the tools and mentality I needed to be able to work with my dogs. I can not recommend Crank's Custom Canines enough.
I couldn't have been more grateful to have found Gene from Cranks Custom Canines. I love the knowledge, confidence, and passion Gene posses. He & his team are truly a gift for dogs and families in search of quality dog training. My Rottie (Peaches) was an ultra reactive pup living in fear. I felt awful for her but, also scared of what these fearful reactions would lead to. The stress and anxiety between myself & poor Peaches were at a all time high. After meeting Gene, he not only explained the psychological aspects of training but also displayed the ability to work with my dog effectively. I can't stress how many times I spoke to someone claiming they could train my dog & during consultation they could not manage the dog. Gene is experienced & through his teaching (myself ) my 5 & 6 year old can give Peaches commands and she responds accordingly to their request. He COMPLETELY changed my Peaches overall quality of life which means less stress for me and our family. We have a HAPPY, well trained Rottweiler no longer living in fear of sounds, things or people. We can now ENJOY her as a family. Thank you Gene & Jen from the bottom of our hearts.
Gene is an incredibly talented and intuitive trainer. He worked magic with our 3 year Whoodle who was fearful of people and other dogs, barking and lunging at them. Bringing people into the house and taking him for a walk were quite challenging. We wanted Doolie to be more confident and relaxed and able to enjoy life and with Gene's expertise that has happened. He also worked with our 1 year old Westie, Izzy, who was so excited to see people and other dogs on her walks that she barked incessantly at them. She is now able to calmly walk by people and dogs. Gene patiently provided me with the skills to continue training both dogs. We are extremely grateful to Gene for helping our dogs to become calm, confident and happy. This
Contact Us for Dog Training
Join our email list and get the training course.
We will email you daily with training tips, ideas, and videos.
This is an introductory course into our training philosophy.